COMPANY DETAIL
■MADE in JAPAN
We are processing all of manufacturing process at our own factory and subcontracted factories in Japan. This is the reason why we can control every process of manufacturing, and this can allow us to provide reliable products at good lead-time. Lead-type of oscillator (such as UM-1, UM-5) is concerned, our strength is to have blank factory in our group; therefore we can cooperate from the stage of what kind of blank to be required to cope the given specifications.
■QUALITY CONTROLS
Measure Dimension and Surface or Edge Defect (Digital Microscope) , Cutting Angle at Final Stage (EFG/RIGAKU), Frequency (Twinning/Dip/Spurious), Parallelism and Flatness (Laser Interferometer)、Contour (Optical Interferometer), Surface Roughness, Laser 3D Microscope. We are able to measure all parameter to guarantee for our all product to you. We do test all lead type products as MIL. Standard. We measure 100% for frequency vs temp. characteristic.
Laser Interferometer
Especially Require for HFF Products
Laser 3D Microscope
3D Surface Inspection
Contour
Inspection for Contoured Shape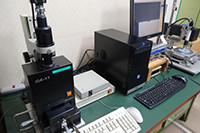 Digital Microscope
Inspection for Dimension, Surface or Edge Defects
■AVAILABLE FROM A SMALL QUANTITY TO A MASS PRODUCTION
We can cope to a small quantity of order such as sample production for mass production. Our production capability of crystal blanks is up to 10 million pcs/month. We can provide our products steadily and regularly. It is welcomed to cope to requirements for Laboratory or University.
■HIGH FREQUENCY FUNDAMENTAL (BLANK)
As a matter of course we can provide up to 80 MHz (Fundamental) Plano/Plano blanks. On the other hand, we can provide up to 350 MHz (Fundamental) blanks processed at Inverted Mesa method. Inverted Mesa blanks can solve difficulties of handling for building of products; also can prevent breakage of blanks which are installed inside products.

Products from Another Company
Strain on the Surface High Etching Rate
Damage on MESA RING
Masking Defects
Spurious
Parallelism and Flatness Defects
Our Products
Our INVERTED MESA BLANK
No Strain on the Surface
Less Damage on MESA RING Use Double Masking to Protect the Ring
Our 124MHz BLANK

Our 173MHz BLANK
■HIGH FREQUENCY FUNDAMENTAL (Lead-type such as UM-1 & etc)
We can cope up to 300 MHz using Inverted Mesa blanks. We succeeded of providing both of High Frequency and High Quality. We have self-confidence in our technique of how to control and minimize the spurious mode of oscillation, especially discrete type of filter use.

Our 305MHzBLANK
Less Spurious
Our 125MHz LEAD TYPE
Very Small Spurious
■HIGH QUALITY RAWBAR
We use LOW ETCH CHANNEL material (less than 10pits/cm2)、or SWEPT material for high frequency products.
Foreign Quartz Bar
Many Etch Channel after Deep Etching
Our Low Etch Bar Our Low Etch Channel Material after Deep Etching. Guarantee less than 10pits/cm2
Our SWEPT Bar
Traceable for Each Single SWEPT Bar. Etch Channel and Inclusion is close to ZERO as possible
■Short Lead time
We have wafer stocking system called "Wafer Bank". We stock sorted wafers in the bank. We don't usually cut the bar after we get order so we can make delivery time much shorter.


We stock pre-etched Inverted Mesa blank at our "MESA BANK" if our customer require. We can only adjust to final frequency needed. It will make our delivery time a lot shorter.



We own blank factory, we can enter lead type process as quickly as possible.